Door sill protectors are an often-overlooked piece of protection equipment that can make a world of difference regarding keeping your paint in pristine condition.
Like any other product on the market, some door jamb and door sill protectors are better than others. To get an idea of what you are looking out for, you should explore these 5 quick tips to help you find the best door jamb protector.
Overall, the best door sill protectors for a Nissan Qashqai is SLiPLO's Universal 3D Door Sill Protector DIY Kit.
Durability
One of the reasons there are so many advantages to auto jamb protectors and door sill protectors is because of their incredible durability.
To be able to withstand the harsh elements, high heeled shoes, and dog claws, door sill protectors must be made of highly resilient materials.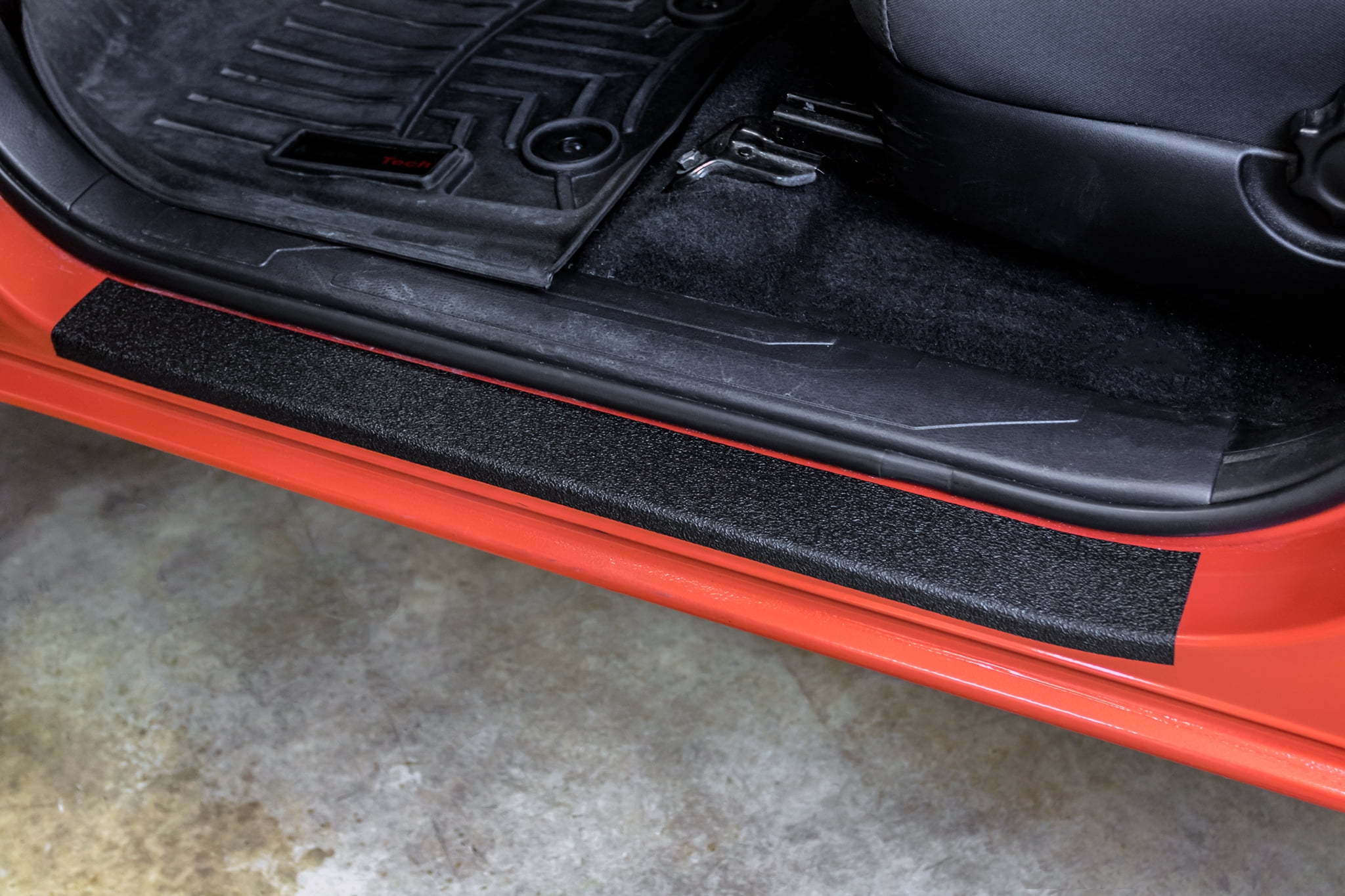 SLiPLO's Universal 3D Door Sill Protectors are made with 13 mil embossed polyvinyl chloride paint protection film from XPEL.
XPEL is a reputable manufacturer that leads the paint protection industry with their innovative paint protection films. This textured slip-resistant material can handle just about anything you can throw at it.  
 Another component of a door sill protector's durability is how it is affixed to your vehicle. Some door sill protectors are attached with hardware or other methods that can damage your door sill.
SLiPLO's Universal 3d Door Sill Protector is attached to your door sill with M3 adhesive. M3's adhesive is incredibly strong, yet still removable without ruining your paint.
Universal Fit
How to choose the best door sill protector for a Nissan Qashqai is much like how to choose the best door sill protector for a Honda or a Toyota when you get a door sill protector with a universal fit.
There are options that are specific for Nissan Qashqai's door sills, but they are substantially more expensive and harder to find. These are typically made of steel or carbon fiber and do not cover the entirety of your door sill.
SLiPLO's Universal 3D Door Sill Protector is truly universal. This paint protection film comes in a roll that you cut into the exact dimensions you want providing a perfect customized fit.
In fact, you can use this universal door sill protector do-it-yourself kit on not only cars, trucks, and SUVs but also ATVs, boats, pool steps, and more.
If you want to cover the entirety of your vehicle's door sills or only one area that gets the worst beating, it is up to you with this door sill protector.
If you do decide to get a door sill protector that is vehicle specific, be extra diligent to ensure that the door sill protector will fit your make, model, and year of your vehicle.
Installation
Another advantage to universal adhesive vehicle door sill protectors or scrape guards like SLiPLO's is that installation is fast and easy without any need for experience or skill. Things you should know and door sill protector installation instructions are easy to understand, giving a step by step guide.
Pull your vehicle into some sunlight so that you can see it well, and thoroughly clean your vehicle's door sill. After you make sure to get off any dirt, grime, or dust from the paint and any nooks and crannies, allow it to dry.
Then, measure the area you want to put the adhesive paint protection film door sill protector and cut it from the roll to that size.
Finally, paste the door sill protector paint protection film to the sill and let it sit for a while to adhere properly.
If you want to go the extra mile, you can use 3M's Adhesive promoter sponges on your Nissan Qashqai's door sill paint after it has been thoroughly cleaned.
Although this is not required to use 3M's Adhesive promoter sponges, it is advisable if your door sill's paint has any imperfections. Its purpose is to enhance the bond of 3M adhesive tape on low surface energy surfaces.
Unlike some other options, it should only take you a couple of minutes to install these door sill protectors.
If despite the ease of installation and easy-to-understand instruction you do not feel confident installing it yourself, you can bring it into just about any shop to have it placed for you.
Price
Vehicle door sill protectors can cost anything from a few hundred dollars to 15 dollars or less. Like any product, you have to be careful with things that seem too good to be true.
Although some options, like SLiPLO's Universal 3D Door Sill Protector DIY Kit is high quality and affordable, many cheap options are not good.
Make sure to extensively research any cheap option and find as many reviews as possible if you are looking at an inexpensive door sill protector to ensure that it will not damage your paint, peel off in the second week, or bubble.
The materials that SLiPLO's Universal 3D Door Sill Protector is made out of, XPEL paint protection film and 3M adhesive, stops these problems from occurring despite its affordable cost.
Appearance
 You do not have to sacrifice the aesthetics of your Nissan Qashqai to protect your door sills. SLiPLO's Universal 3D Door Sill Protector has a semi-gloss black finish that suits any paint color you may have.
Its customizability also allows you to shape it to fit perfectly. Not only can you cut it into the exact shape you want it, unlike rigid door sill protectors, but SLiPLO's Universal 3D Door Sill Protectors will also contour to the shape of your door sill.
Being strong enough to withstand stiletto boots, luggage wheels, and dog claws, you do not have to worry about unsightly scratches to your paint. It is also resistant to the elements and will not get damaged by rain or fade due to ultraviolet light from the sun.
Wrapping Up
Getting a door sill protector for your Nissan Qashqai is a fantastic idea and will help to keep your paint in great condition. Although there are many choices on the market, with SLiPLO's universal fit, aesthetics, durability, and price, it is a wise selection.
For more info on the features, benefits, and pricing of

 

door sill protectors, click here, alternatively, use our interactive map to find an

 

authorized installer near you. If you enjoyed this article, check out our blog.