Suzuki Swifts are great subcompact cars, having been loved by many since 2004 until now.
A good family car, being reliable and fuel efficient with enough room, it makes sense if you want to protect your Suzuki Swift. One simple, stress free ways to add a layer of protection to your Suzuki Swift is to get a bumper protector.
Depending on specifics, your vehicle may be especially vulnerable to paint damage on its underside. While the Maruti Suzuki Swift has a ground clearance of 163 mm or 6.4 inches, 2017-2020 Suzuki Swift 5 doors have a ground clearance of only 119mm or 4.7 inches.
Bumper protectors can keep you from scraping your paint or worse when you are pulling into a steep driveway or hit a pothole.
Finding the best bumper protector for your Suzuki Swift is not much different that finding the best front bumper protector for a Dodge Charger or any other vehicle with universal bumper protectors on the market. When you consider installation, appearance, and durability, SLiPLO's Universal Bumper Scrape Guard DIY Kit is the best option on the market right now for your Suzuki Swift.
Protection for Your Bumper
Your front bumper is one of the most likely areas of your vehicle to make contact with the ground. No matter how careful you are, the paint on your bumper's lip is more likely to get scratched eventually than it is to stay in pristine condition indefinitely.
On top of steep driveways and potholes, hitting a speed bump too fast can damage your car but bumper guards can prevent this if they are made out of the right materials.
SLiPLO's Universal Bumper Guard is crafted from a combination of adhesives, acrylic foam, and the same polyurethane that snowplows use to withstand the constant scraping involved in plowing snow.
If snowplows can stay intact doing the job they do, these bumper guards can protect your bumper from occasional momentary contact with pavement.
Of course, these bumper skid plates are not magic. It will not prevent you from smashing in your bumper on a light post, but it will help your bumper "glide" over pavement because of its design instead of pulling your bumper off.
Besides allowing your bumper to "glide" instead of catching on the rough ground, the bumper guard provides a barrier between a hazard and your bumper's paint.
Will Not Fall Off
SLiPLO's Universal Bumper Guard DIY Kit utilizes adhesives to keep the modular protector strips fixed onto your bumper. Nothing you attach to your vehicle, including a scrape guard, should be at risk of falling off. Not only will it prove to be useless regarding protection, but it can also become another road hazard.  
This product uses a 3M adhesive made specifically for use on automobiles. This adhesive is incredibly strong and will not peel off if you make impact with the road.
Even constant exposure to harsh weather conditions will not make it fall off. In short, unless you want it to come off and are actively trying to remove it, this bumper guard is staying where it is no matter what.
Is Discrete
What is the point of having a Suzuki Swift instead of a typical hatchback that is less sporty if you're going to add gaudy, unappealing things onto your vehicle?
SLiPLO's Universal Bumper Guard is invisible to anyone looking at your vehicle unless they get onto the ground and look up under your vehicle.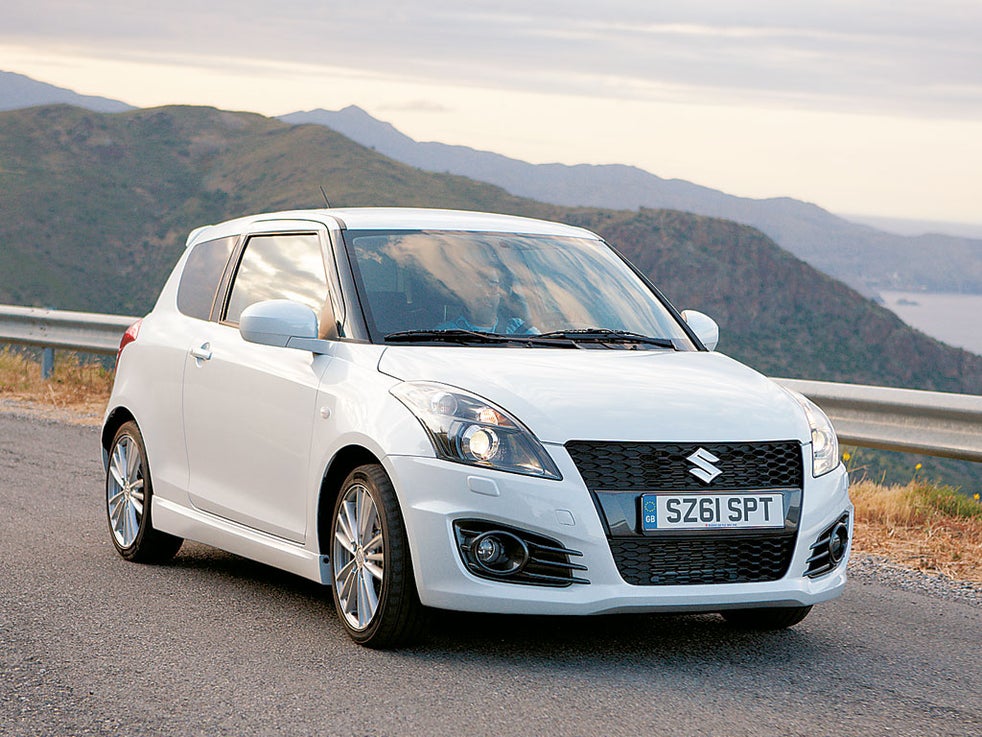 This product is a quarter of an inch, or 6.35mm at its thickest. This allows for there to be enough room for this bumper guard to do its job without it ever dangling low enough for onlookers to see.
With SLiPLO's Universal Bumper Scrape Guard you will not have to compromise your Suzuki Swift's appearance in an effort to protect its paint!
Avoids Costs of Paint Jobs
Having your paint touched up can cost anywhere from a few to several hundred dollars depending on the amount of paint damage, location of paint imperfections, and the existing paint itself. 
Even worse is there is no guarantee that the underside of your bumper will not get scuffed up again after a paint touch up. Leaving the scraped paint is not a good idea either.
Failing to fix paint damage leaves your bumper open to the elements and promotes further chipping that may become visible on the front or sides of your bumper.
Prevention is your best option. The amount it costs to purchase a bumper skid plate is worth it when you consider how much it will save you in paint repairs.
With SLiPLO's Universal Bumper Scrape Guard, paint repair cost from steep driveways and speedbumps are a thing of the past!
Does Not Affect Resale Value
One of the facts about adhesive bumper protector strips for cars is that they require no drilling or hardware. Instead of having to drill through your Suzuki Swift's bumper, permanently defacing it, you are able to put it on without damaging the bumper or it's paint at all.
Not only does it not cause any damage to the bumper or its paint, but it is also completely removeable. All you need is a heat gun, heavy-duty fishing line, and an adhesive remover that will not affect your paint. Through the action of these three things, you can get your vehicle's bumper back into pristine, factory condition.
If there is any chance that you may want to sell your Suzuki Swift in the future, you do not want to have anything you can not remove. Customizations of any sort are likely to reduce your vehicle's resale value, no matter how small.
Since you can remove this bumper protector, it will not reduce the resale value and actually will help reduce the speed it depreciates by protecting your paint.
Universal
Many of the most popular SLiPLO alternatives are specific to specific makes and models of vehicles or requires you to do precise measurements, not working for unusually shaped bumpers.
The modular design of SLiPLO's Bumper Guards and the fact that they come with 8 strips to accommodate the size of your bumper (or if you want to put an additional row), allows for SLiPLO to work for all bumpers.
No matter if you have a first, second, or third generation Suzuki Swift, you will be able to use this product to protect your bumper's underside with it conforming to the exact shape of your bumper. You do not need to worry about exact dimensions or trying to force it to bend with your bumper's curves.
Simple Installation
Being one of the best skid plates without drilling or hardware, SLiPLO's Universal Bumper Scrape Guard is one of the easiest to install. The first step is to decide where you think the best place to place the protectors will be for your bumper's shape and size and if you want one or two rows of guards.  Next, thoroughly clean you bumper and wait for it to dry before wiping it down with the 3M adhesive promoters that come in the kit. Finally, just apply the guards!
For more info on the features, benefits, and pricing of skid plates, click here, alternatively, use our interactive map to find an authorized installer near you. If you enjoyed this article, check out our blog.