Have you been thinking about what will happen if you scrape the bottom of your Dodge Charger and how to avoid it?  There are various skid plates and paint protection options out there that can help you to avoid this dilemma, but the best protection for the most scrape-vulnerable area of your Dodge Charger is SLiPLO's Universal Bumper Scrape Guard.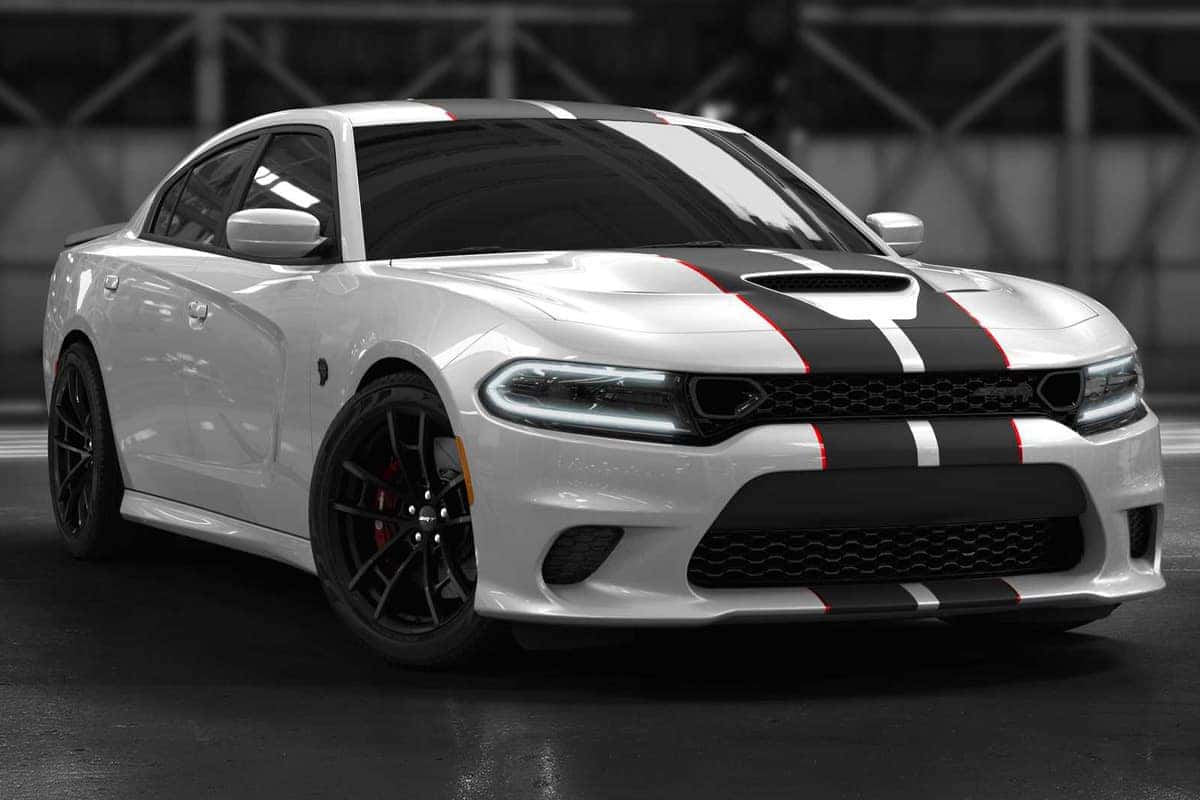 Between the amazing protection it provides, discreteness, appearance, durability, and ease of installation, SLiPLO's bumper skid plate is the best on the market right now.
To make a great product even better, this bumper scrape guard is removable and would leave your Dodge Charger in factory condition since no drilling is required during installation.
Protection
This bumper scrape guard is a formidable opponent against abrasions from stones getting kicked up from other vehicles, steeply inclined driveways, and potholes. This bumper skid plate is crafted from high quality, thick, polyurethane, unlike many of the popular SLiPLO alternatives that are made of rubber.
The material this skid guard is created with is the same thing that snow plows are made with. As part of the job, snow plows mounted to trucks spend hours at a time scraping across concrete while plowing. Without a doubt, this material can withstand occasional scrapes and dings without any problem.
Additionally, the design of this bumper skid guard limits the surface area of where your bumper is likely to make contact. This means that instead of your bumper getting scratched, the guard will, without having to cover the entire underside of your Dodge Charger's bumper.
Besides just acting as a barrier between potentially dangerous situations and your bumper, the design of SLiPLO's Universal Bumper Scrape Guard prevents your bumper from catching onto rough surfaces which can result in substantial damage. Instead, SLiPLO glides across rough surfaces.
Discrete
Safeguarding your bumper with SLiPLO will not change the appearance of your Dodge Charger in any way. Completely discrete and out of view unless you lay on the ground to look, no one will know that it exists. This is one reason why SLiPLO is often used on luxury vehicles- it does not impair the aesthetics of the vehicle at all.
If for some reason you want to get rid of your SLiPLO bumper guard, it is removable and there will be no evidence that it was ever there. For example, if you want to sell your Dodge Charger and don't want there to be the possibility of its value being reduced because the guard would be considered a customization, you can remove SLiPLO without a problem.
Universal
There is no need to worry about the proper fit or ensuring that you get the right scrape guard for your make and model. SLiPLO can go on almost any bumper lip, including a Dodge Charger's, as well as nearly every other car and truck. Even ATVs can gain protection through the use of SLiPLO's universal bumper guard.
This option will also work if your bumper is custom since it is universal. Adherable to carbon fiber and ceramic coatings, and applying to bumper spoilers and splitters, SLiPLO can get the job done for you no matter the circumstances.
Durability
With the superior design and strong adhesive, SLiPLO can handle extreme temperatures, harsh weather, and the elements it is exposed to while driving. This guard can really take a beating, sliding across asphalt, surviving flying debris, and shielding from potholes.  
SLiPLO is so confident in their product that although impacts and abrasions are expected to occur with the scrape guard, they provide you with a 10-year warranty regarding product failure.
SLiPLO's Universal Bumper Scrape Guard also comes with a satisfaction money-back guarantee. This means there is really no risk in at least trying it out since you can both get your money back and remove it if needed.
No Drilling
As the best skid plate without drilling for your bumper, SLiPLO's Universal Bumper Scrape Guard will not ruin your bumper nor it's paint. Requiring no drilling or hardware, your Dodge Charger can remain in factory condition. This also makes it much easier to install, no tools needed.
The thick, heavy-duty polyurethane guard is held onto your vehicle's bumper with incredibly strong extra strength automobile grade adhesive manufactured by 3M, a leader in their field.
Providing the same strength as rivets without causing damage to your Dodge Charger, there is no risk of SLiPLO's Universal Bumper Scrape Guard falling off. For this reason, this specific bumper scrape guard is legal in every state.
Installation
As if you need more reasons why SLiPLO is one of, if not the best option for bumper scrape protection, installation is incredibly easy. This is a perfect do-it-yourself project that anyone can do even if they have no experience with vehicles or bumper scrape guards.
It can even make for a fun activity for you to do with your children. It is really just that simple. Taking only 10 minutes and fitting any vehicle, the installation of SLiPLO's Universal Bumper Scrape Guard is completely stress-free.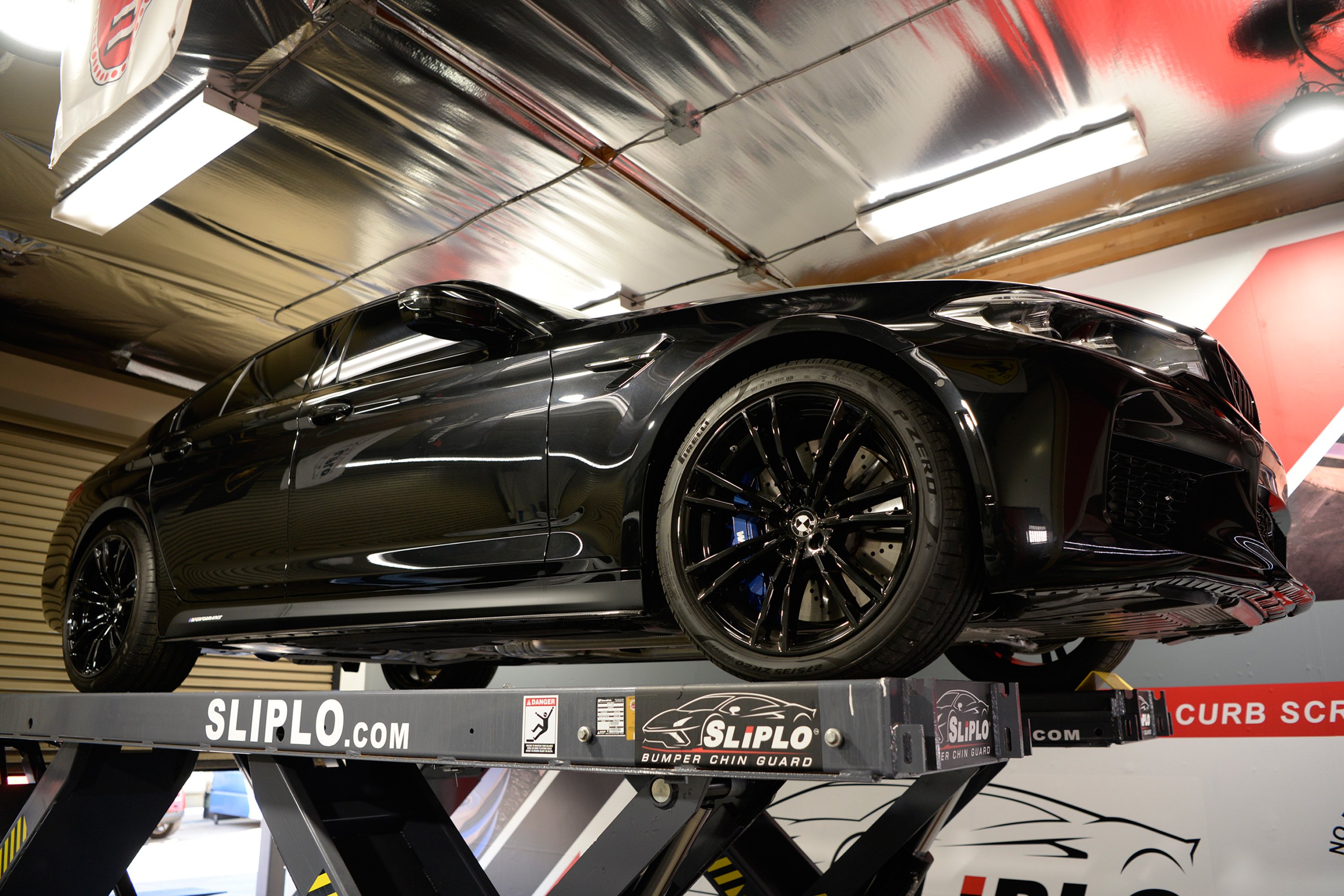 If you still are not confident about installation or just don't want to be bothered with it, you can go to any SLiPLO authorized dealer. There are authorized locations all over the globe, allowing anyone to get a professional installation no matter where you are located.
Wrapping Up
Your Dodge Charger can benefit from a bumper scrape guard. The best one for the job is SLiPLO's Universal Bumper Scrape Guard. Made from strong, resilient polyurethane and held on with 3M adhesive, this bumper skid plate can stand the test of time while also protecting your bumper from impacts to its underside.
Unlike some other bumper guards, there is no risk to your paint or bumper since there is no hardware or drilling required, and it can be removed at any time you would like. With all of these factors plus the ease of installation in mind, there isn't much question as to which bumper scrape guard would be best for your Dodge Charger. 
For more info on the features, benefits, and pricing of skid plates, click here, alternatively, use our interactive map to find an authorized installer near you. If you enjoyed this article, check out our blog.