Just like how we would look into the essential car accessories for a new car after purchasing one, it only makes sense to shop for accessories and protective products for our Can-Am after getting one. Outlanders are incredible ATVs with fantastic handling, operational on all terrains and during any season, and can be adapted for any job. In fact, with 78 horsepower, this Can-Am can haul more than any other ATV.
Depending on the specific jobs you have in mind for your Can-Am Outlander, from work related tasks to just off-roading, you will want different accessories. No matter what though, you will want some protection for your ATV's undercarriage. On top of looking at the best accessories for a Can-Am, figuring out your options for skid plates is a good idea. The following are some options perfect for your Can-Am Outlander's underside and how much you could expect to pay:
Front Skid Plate by Can-Am
Of course, one of the first places you want to protect is the front portion of your Can-Am Outlander's underside since it will likely be the first thing to come in contact with obstacles that you run across. Can-Am's Front Skid Plate can help guard your ATV's undercarriage effectively, being 4.5mm (or 3/16th inch) thick and made specifically for the Outlander. This die-formed skid plate is durable and trustworthy, manufactured by the OEM, Can-Am, so you do not have to worry about if it will really fit or what the quality is going to be like. If you need to look it up, this skid plate's part number is SKU 715000925. Other advantages include a one-year limited warranty on all accessories including skid plates, and the option between home delivery or in-store pick up. This great and trustworthy front skid plate will cost you a little over $70.
BRP Can-Am Rear A-Arm Guards
Another area that it would be a good idea to protect with a skid plate is your Can-Am Outlander's A-arms. Your A-arms, also known as control arms, are a very important suspension component. The specific A-arms on your Can-Am Outlander are made specifically for the job, giving the stability and strength needed for all terrains. Stability is further enhanced by the A-arms increasing the wheelbase by 1.5 inches. This also allows for 28-inch tires.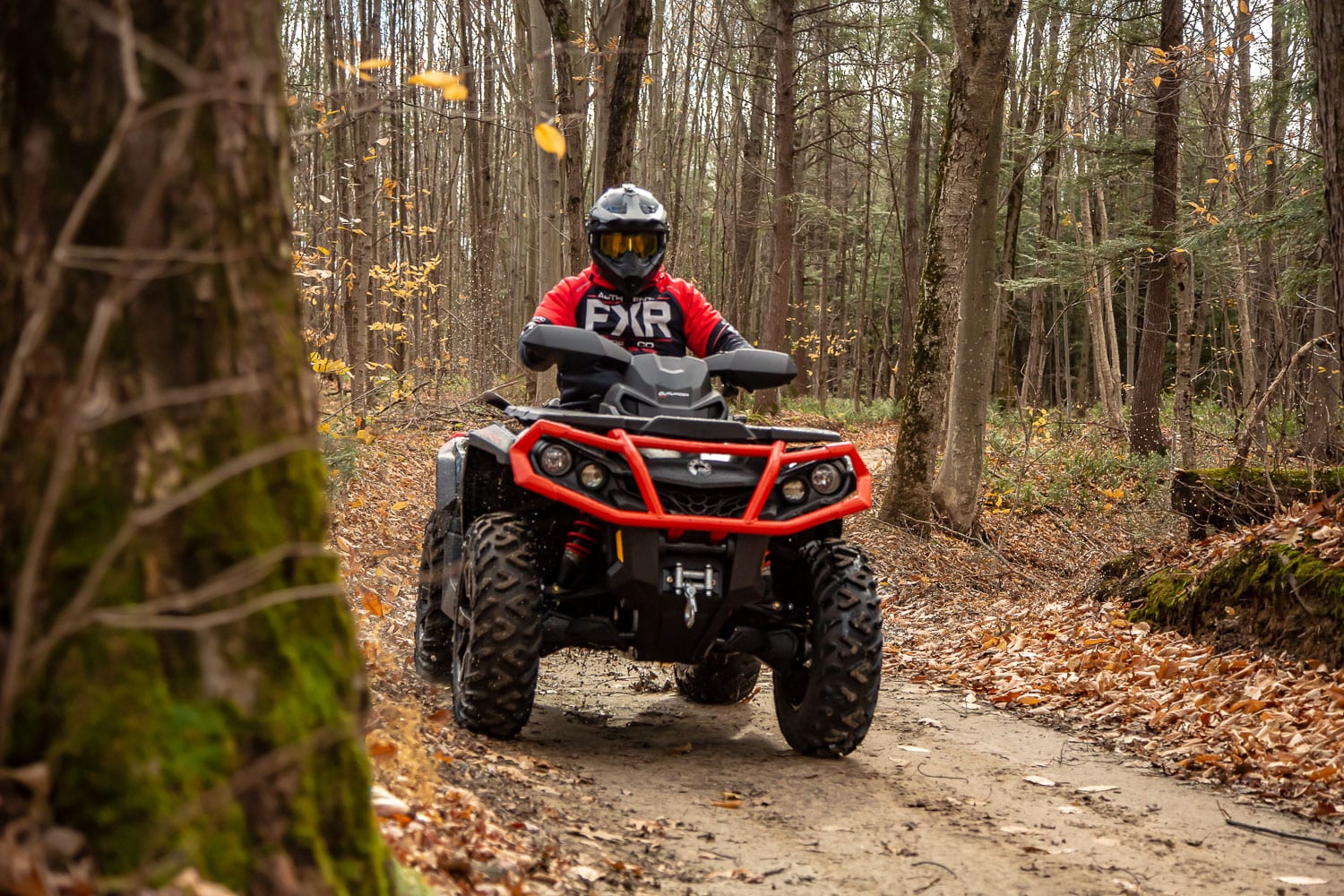 To protect this crucial component, A-arm skid plates are the way to go, and the BRP Can-Am Rear A-arm Guards can do that for your Outlander. This aluminum skid plate is durable and resilient and can help to keep your valuable suspension system intact. As expected, instructions and fastening parts are included, and comes up to a little over $90.
Can-Am Outlander 800 Full Frame Skid Plate
Instead of buying different skid plates for different areas separately, you can get a set that covers the majority of your Can-Am Outlander's underside. The Can-Am Outliner 800 Full Frame Skid Plate is a 3-piece full frame set meant for 2006-2011 models and can effectively shield the undercarriage of your ATV from all of the dangers it may face.
This Can-Am Outlander 800 Full Frame Skid Plate will definitely stay firmly fixed to your undercarriage no matter how much you put it through.  With mounting hardware including chrome-moly steel clamps and locking nuts, that are heat treated for maximum strength, and non-corrosive zinc plated finish, there is very little chance this skid plate will come loose. Of course, a full frame skid plate set is going to cost substantially more, with those purchased through Skips Skid Plates running around $300.
SLiPLO Can-Am Scrape Guard
Lastly, we cannot forget about SLiPLO's Can-Am Universal Frunk Bottom Scrape Guard. This highly reviewed product is amazing at protecting vehicles from scratches, dings, and scrapes, including ATVs such as the Can-Am Outlander and is not only the best front and rear bumper protector for Tesla Model Y and others.
Although SLiPLO's Universal Scrape Guards started with street vehicles, they adapted amazingly to ATVs. The Can-Am's mud guards do provide some protection from mud, but they do not shield from logs, rocks, and other abrasive surfaces that will likely come into contact with the bottom of your Can-Am like the SLiPLO's Can-Am Universal Frunk Bottom Scrape Guard does.
This kit comes with four pieces of SLiPLO Scrape Guards made from high performance polyurethane, and two adhesive promoter pads to prepare your Can-Am Outlander's underside for the 3M adhesive pads. The polyurethane utilized in the manufacturing of this protective product is the same that is used in the making of snow plows that are subjected to constant scraping on rough concrete, providing more than enough durability to the underside of your Can-Am.
At around $57, this product is well worth it, and since it is universal and customizable, you can place it exactly where you deem it is most needed for the type of work your Can-Am will be performing. It gets even better. This scrape guard not only comes with a 10-year failure warranty, it also is easily removable, leaving your Can-Am in the exact condition it was in prior to installing the scrape guards. This means that if you want to sell your Outlander at a later time, you can easily restore it to as close to factory condition as possible, preventing any decreases in resale value from customizations.
Wrapping Up
Can-Am Outlanders are outstanding ATVs that can get any job done. Because of their ability, they are often put in dangerous situations and terrains, making skid plates and scrape guards crucial to keeping them in the best condition. For between $70 - $90 you can purchase skid plates for your front end and rear A-arms separately. This may be a good option if you plan to use your Can-Am Outlander in a way that makes only certain areas at high risk of damage or if you are on a budget.
Alternatively, for around $300 you can get a full frame skid plate set that will cover both of the areas mentioned above, plus significantly more. Last, but not least, SLiPLO Scrape Guards, costing less than $60, can do a wonderful job protecting your Can-Am Outlander's underside when scraping against branches, stones, and other hazards.