There are steps that can be taken to transform nearly any vehicle so that it gets a luxurious feel. If you already found the best front and rear bumper protectors for your Tesla Model Y or took advantage of the benefits of auto door jamb protectors, the next thing to do is make your car feel the way you want it to.
If you have a taste for the more lavish things of life, sacrificing a little bit of time and money to upgrade your vehicle to look deluxe is completely worth it. The following are 5 ways to make your car's interior look luxurious:  
1)
High Quality Seat Covers
One of the essential car accessories for new cars are car seat covers since your seats are vulnerable to dirt, rips, tears, and scuffs. This is especially important if you have pets that ride with you sometimes, or children that can be messy. Just because they are useful does not mean that they have to be unattractive or look cheap. There are many high-quality car-seat covers on the market.
One example of this is OroyalCars's Seat Covers. These seat covers are made with high quality material, buckles, zippers, and flaps, comes with head rests, airbag cut-outs, seatbelt sockets, and map pockets, and are resistant to the elements all while looking high-class.
There are many different styles and colors available.  If you decide on these seat covers, make sure you put your vehicle's model number in when you place your order so that OroyalCars's designers and manufacturing team can customize your car seat cover if needed so that they will have a perfect, secure fit.
Another option is to have your vehicle's fabric upholstery replaced with leather to give it a classier look. You could also have your seats replaced entirely with more luxurious seats. Of course, this will be pricier than simply ordering seat covers and putting them on yourself.
2)
Steering Wheel Cover
Most vehicle's have very unassuming steering wheels when they roll off the lot that leaves a lot to be desired. Purchasing a well-fitting, mid-range, leather steering wheel cover can make a world of difference to the appearance of your vehicle. This will also protect your steering wheel from becoming damaged from being constantly handled every day while you drive.
It is also entirely possible to have your steering wheel replaced for one that you find more aesthetically pleasing. You do not have to settle for the steering wheel you have. In fact, this is often one of the cheaper replacements you can make to upgrade your vehicle to give it a luxurious look.
3)
Upgrade Your Flooring
Even if you are the most cautious person on the planet, it is difficult to keep your vehicle's flooring from getting dirty or damaged over a vehicle's lifetime. No one can control the weather nor can anyone predict every second there is something on the bottom of their shoes. For this reason, high quality floor mats are important and can actually make your vehicle look more upscale if you purchase the correct ones.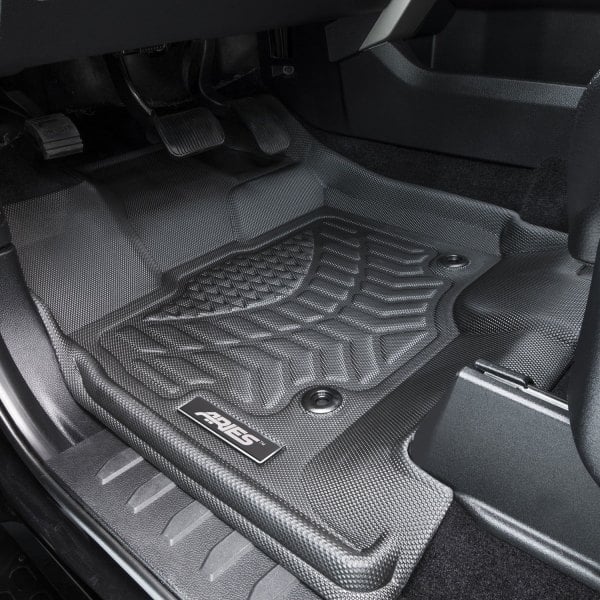 For example, StyleGuard XD Floor Liners by Aries are great for trucks, Jeeps, and SUVs, have a sleek finish while maintaining their tough design to withstand the activities that comes with truck ownership. They are aesthetically pleasing but will not move from their place, since they are anchored down. They are a great luxurious alternative to typical floor mats. For every type of vehicle, there are dependable floor mats that are pleasing to the eye on the market.
You can take it a step further and get your vehicle's interior carpet replaced with another material. Although this option is more expensive, it will make your vehicle stand out from the crowd and will give it the impression of affluent customization.
4)
Upgrade Your Stereo System
One thing common of luxury vehicles is that they sound as good as they ride. What kind of audio system upgrade you should get depends on the existing stereo system in your vehicle, your personal taste in music, and how you use your audio system. An audio system upgrade can range from a complete overhaul to just replacing your vehicle's door speakers.
Using Google Map's Voice Navigation and the directions coming out tinny and distorted does not give the impression of a luxury or deluxe vehicle. Similarly, if you listen to music that requires a wide range of frequencies, having speakers that distort in those frequencies is not preferable. Luckily, there are stereo and audio systems of all types at all different price ranges that can help you transform your vehicle.
5)
Replace Plastic Panels of Your Doors and Console
One of the first things people notice in a luxury vehicle is usually the interior trim. In all other vehicles the standard is plastic, plain, boring trim. Luxury vehicles, on the other hand, usually have all of the trim on the interior either being leather, wood veneer, or chrome. It may not be feasible to have your trim changed to these materials, but you can easily have them vinyl wrapped.
Vinyl wrapping is completely removable, so it will not affect your vehicle's resale value. Coming in every style and color imaginable, you could have your interior trim transformed to look like anything you would like including carbon fiber!
No matter if you have an older Toyota or one of the 10 rarest cars you never knew existed, Italian Alcantara can take your vehicle's interior to the next level. This soft, suede-like material made in Italy can be installed on your center console, dash, door trim, and more.
Alcantara has even better grip than leather and does not get hot like leather does, but also will not get soggy from sweaty hands like fabric can. It will not reflect onto the windshield when installed on the dashboard and is far more durable than suede. All of these reasons are why Italian Alcantara is used in the most expensive performance vehicles, and you can have it installed in your vehicle as well!
For information on how to protect your car using Sliplo, click here, alternatively, use our interactive map to find an authorized installer near you. If you enjoyed this article, check out our blog.