No matter if you are looking to install a car door jamb guard to protect your vehicle from your pet's claws, or if you are installing a car door dent protector that uses 3M adhesive, you have to properly prepare the surface to get the best results.
At bare minimum, you will need to thoroughly clean the surface to ensure there is no dust, grime, oil, or other contaminants that will prevent the adhesive from working properly leading to peeling, bubbling, or falling off prematurely.
If you want the best possible outcome, it is advisable to go a step further and prepare the surface more than washing it off with water. The main two things brought up is usually 3M Adhesive Promoter and rubbing alcohol, but which one is best? That is exactly what we are here to cover today!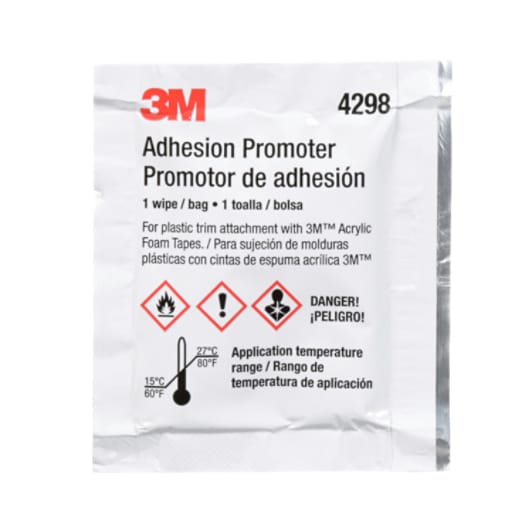 For Products that Use 3M Foam Adhesive Strips
As you would expect, there is no better product to enhance the adhesion of 3M's foam adhesive strips than 3M Adhesive Promoter. Many products use 3M foam adhesive strips, such as SLiPLO's Universal Bumper Scrap Guard DIY Kits. For installations like this and many others, it is best to just go with the 3M adhesive promoter pads. 3M Knows what is best for 3M products.
3M Adhesive Promoter Compatibility
3M is not only for use with 3M foam adhesive strips, but also any polysulfide or polythioether sealants and adhesives. It also is completely safe and effective when used to prepare a wide range of materials that are commonly found in vehicles.
Low surface energy plastics are commonly used for both interior and exterior automotive parts and trim such as the automotive instruments panel and injection molded side moldings, which is not the best for adhesion. 3M Adhesive Promoter was created and designed to be applied onto low surface energy surfaces to allow maximum adhesion, removing this issue.
Materials you can prepare with 3M Adhesive Promoter include glass, nylon, acrylic, thermoplastic olefin, thermoplastic polyurethane, polypropylene, acrylonitrile butadiene styrene (ABS plastic), and EPDM rubber, among other materials. This just about covers any materials you may want to enhance adhesion on before installing a product on your vehicle!
Ease of Use
When considering between alcohol and other products such as 3M Adhesive Promoter, you may be tempted by how easy rubbing alcohol is to use. Luckily, 3M Adhesive Promoter is just as easy to use as rubbing alcohol. 3M Adhesive Promoter comes in a little packet much like the packet that alcohol pads come in. Simply rip off the top of the packet and wipe down the already cleaned surface with the sponge/pad inside.
1 packet can cover over 150 square inches, enough for most projects. If you are doing multiple installations on your vehicle or the surface area is large that you need to cover, you can buy a 3 pack of 3M Adhesive Promoter Pads at a discounted rate. Another similarity besides ease of use is that both alcohol and 3M's Adhesive Promoter dries in mere seconds.
Preexisting Scape Damage
Unlike alcohol, the boost in adhesion that 3M Adhesive Promoter provides allows for sufficient bonding to paint and plastics that have abrasions, scratches, or other light damage. The divots in the imperfection gives space for air and water to get under the installation and pull it away from the surface. 3M Adhesive Promoter addresses this problem.
Other Considerations
3M is a reputable and trusted company that specializes in adhesive products and technologies in the automotive industry, with their products being include in OEM (original equipment manufacturer) parts and collision repair. Using products that are were designed with the purpose you have in mind increases your chances of having a favorable outcome.
3M is so confident in their products, including their 3M Adhesive Promoter pads, that they guarantee the quality and craftmanship of their product, as well as offer a 30-day money back warranty. Customer service is always good, and their return policy is straight forward and easy.
What About Alcohol?
Isopropyl alcohol, sometimes called IPA or rubbing alcohol, has made a name for itself in the automotive detailing industry and has many applications. This being said, it is not necessarily the best option just because it is widely used, and we are all familiar with it. For adhesion enhancement, alcohol will only help you clean the surface and does not provide the level of adhesion boost as you can get with 3M adhesion promotor.
Not only does it not help promote adhesion like adhesion promoters do, but isopropyl alcohol can also damage some parts of your vehicle depending on several factors. For example, isopropyl alcohol can cause damage to colored and "piano black" trim, transferring the color or removing some of it. Despite these risks, if appropriately diluted, isopropyl alcohol can be used for prep, but you have to know the proper proportions for different materials.
Interestingly, there may still be a use for alcohol if you decide to use 3M Adhesive Promoter. If you get your 3M Adhesive Promoter somewhere where you do not want it, diluted isopropyl alcohol can be used to remove it in seconds. Just make sure it is safe for the material you are using it on before you do.
Is Isopropyl Alcohol or 3M Adhesion Promoter Better?
Although isopropyl alcohol has many uses in the automotive detailing business, it is no substitution for adhesion enhancement. If it is safe for the material it is being used on, alcohol may be a valuable tool during the cleaning process, as well as other solvents, degreasers, and simple soap and water.
If you have decided on the best front and rear bumper protectors for your Tesla Model Y and cleaned the bumpers already, 3M Adhesive Promoter is the best option. The last thing you want is for your bumper protector to fall off while sitting at a red light, and with 3M Adhesive Promoter, that will not happen. Trusted by the automotive industry, even for OEM parts, there is no better automotive adhesive company.
For more information on the features, benefits, and pricing of 3M Adhesive Promoter Sponge click here, alternatively, use our interactive map to find an authorized installer near you. If you enjoyed this article, check out our blog.