As they say, if you choose a job that you love, you will never work a day in your life. Choosing a job that you will enjoy is important since most people spend much of their life dedicating a large portion of their time to their work.
If you are straight out of school or are coming from a different industry, you will likely have to start from the bottom and work your way up. Luckily, there are many car related jobs available that do not require experience and will give you a chance to tell those interesting facts about the automotive industry to people who are just as interested. The following are 5 entry level jobs for car enthusiasts:
1)
Vehicle Assembly
Vehicle assembly positions are entry level positions that are great for people who are interested in the inner workings of automobiles. This job is not an easy job and can be fairly physically demanding, but it is also a very rewarding and stable job that often has good benefits.
Responsibilities will include many tasks related to manufacturing a vehicle, including assembling wiring harnesses, switches, and motors, as well as installing HVAC systems, latches and mechanisms, glass and weatherstripping, convertible tops, and more. This may seem like a lot, but many places will train you on the job and only require a high school diploma. Of course, your pay will increase as you gain more experience.
Vehicle assembly jobs can give you unique insights into what is going on in the industry and see things that others do not get to see. Maybe you will even get a sneak peek regarding one of the top upcoming cars in 2021 and when they will come out! Vehicle assembly positions can pay a decent amount and is definitely an area where you can stay comfortably over time.
2)
Auto Body Repair
If you do not think you will be satisfied with the monotony that comes along with assembly line work, automotive body repair may be a good position to investigate. With vehicle accidents happening every day, not even including minor scratches and dings, there is no shortage of customers needing automotive body repairs.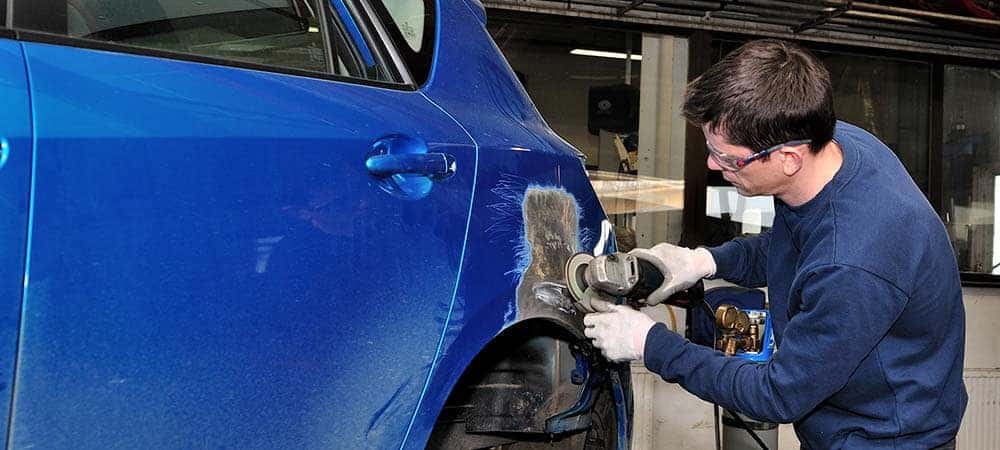 Things you may or may not have to do while doing this job include assessing damage, mending a damaged body and fenders, filling dents, and welding, as well as filing, grinding, and sanding surfaces in preparation for painting. All the while you will have to ensure you are staying within all Classic Collision rules, standards, and regulations. Each car that rolls in will have a different set of problems and damage that will need to be remedied. Not only that, as an automotive body repair specialist, you will have an opportunity to work with all different types of vehicles.
3)
Mechanic
Another profession that will allow you to experience all different types of vehicles, from the most run-down beaters to the most expensive supercars, is being a mechanic. Depending on the specialty you get into, your job may entail anything from conducting routine maintenance to modifying engines to optimize performance.
To become a general service technician, you need no special education or experience. Although some places may prefer some experience, it is usually not required. Being a mechanic is a career you can really grow into, expanding your expertise as you go. For example, you may start just installing simple things such as SLiPLO's Universal Bumper Scrape Guards for customers who are uncomfortable doing it themselves. Soon enough, you will be able to take on more difficult tasks such as recognizing the common Tesla maintenance problems and how to avoid them to be able to advise your customers.
You can further your career and make more money by going to vocational school and becoming a certified automotive mechanic. This generally only takes a year or two, and some employers will fund your education and construct your hours around when you have classes. Becoming certified is not required, though. You can just walk in as you are!
4)
Automotive Sales Representative
If you are a car enthusiast but not looking forward to a physically taxing job, becoming an automotive sales representative may be the profession for you. For this job you will need a wide range of knowledge regarding the vehicles you will be selling, as well as the ability to work well with people.
If you have an outgoing personality, you will have an easier time getting your foot in the door and excelling as an automotive sales representative since you will have to engage with the public regularly and you will likely depend on sales for commissions. Since many dealerships will give their sales representatives about 25% of their profit from selling the car, prior experience with the customer service industry may be useful.
When looking into becoming an automotive sales representative, it is wise to match the potential job with your interests. So, if you are a fan of Mustangs, a Ford dealership will make more sense than a Honda dealership. This is important because if you are a lover of a certain vehicle, you will have a much easier time getting others to love the car too and purchase it.
5)
Vehicle Restoration
For some people there is no better experience than bringing an old classic car back to its former glory and there is no better way to do this than by becoming a vehicle restoration technician. Vehicle restoration jobs are unfortunately few and far between. If you can find a position, you will start off as a vehicle restoration apprentice and learn how to fix up a vehicle hands-on.
In the beginning you may have to settle for some less glamorous restorations or you may be shadowed by a more experienced restorer. Responsibilities with this position may include disassembly and mechanical, body, upholstery, interior, and custom work. Regardless of if your employer focuses on full restorations for collectors or vintage car upholstery restoration, with this profession you are likely to come across vehicles that you may never have had the opportunity to experience otherwise.
If you love your car, you'll love Sliplo. For information on the features, benefits, and pricing of skid plates, click here, alternatively, use our interactive map to find an authorized installer near you. If you enjoyed this article, check out our blog.