With the bold exterior styling of the 2021 Hyundai Elantra, the last thing you want to do is ruin its aesthetic by scraping the underside along steep driveways and curbs. Even if your Hyundai Elantra is an earlier year, protecting this compact sedan's paint and undercarriage is important to maintaining its appearance and lifespan.
Equally important is to replace damaged original equipment parts as they become damaged. With skid plates, guards, and splash shields being closest to the ground, they are prone to becoming damaged over time. Finding replacement skid plates is imperative. With all the options that are available, it may be difficult to determine which skid plates are best. The following are our picks for the best skid plates for your Hyundai Elantra.
Sherman's Engine Splash Shield
Protecting your Hyundai Elantra's engine is probably one of the most important things you can do. If your engine's factory splash guard has become chipped, dented, scratched, or otherwise damaged, it will become more likely to incur further damage because of its compromised state until your engine itself is at risk from the contaminants on the street. Luckily, this factory part can be replaced at a reasonable price with Sherman's Engine Splash Shield.
Meant to replace your original (OE) part number HY1228194 or 29110F2000, you can easily restore your vehicle's undercarriage and protect your engine from contaminants splashing up from the street as well as salt from salted streets on icy days.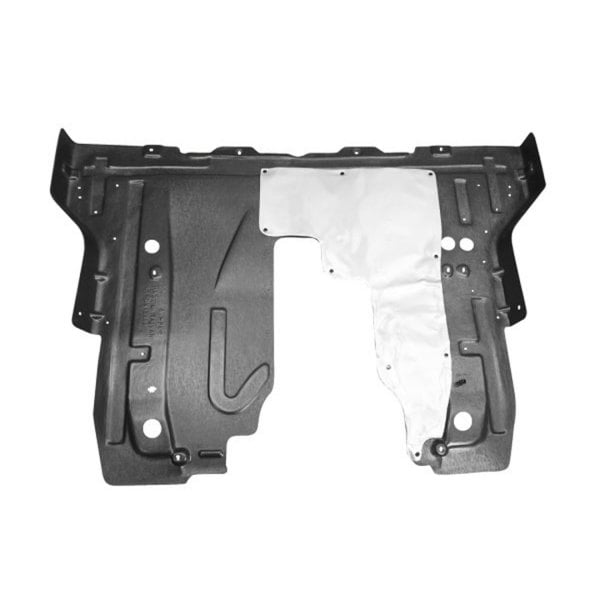 Durability is something to look for when browsing skid plates to replace your vehicle's OE parts that become damaged. Sherman is dedicated to producing original equipment quality replacement products, including ensuring that they are durable enough to stand up to the job.
They are so confident in their products, in fact, that they offer a limited lifetime warranty that includes everything including corrosion from normal use. It should be noted, though, that this warranty only applies if the original purchaser of the replacement part owns the vehicle on which the part was installed when the failure happens. All in all, this replacement by Sherman will allow you to keep your Hyundai Elantra in factory condition at a reasonable price without a bunch of hassle.
2) K-Metal Replacement Front Center Bumper Splash Shield
Another area you would really want to replace if it became damaged is the front bumper splash shield. K-Metal Replacement Front Center Bumper Splash Shield is suitable to replace several original equipment parts corresponding with all different years of Hyundai Elantra. This replacement part is very reasonably in price and is completely worth it to keep your Hyundai Elantra in tip-top condition.
Because K-Metal designed this bumper splash shield to have the same dimensions as the original equipment part and manufactured it using the same gauge material as the original equipment part, the installation of this replacement is identical to installing the factory unit. This means that there are no vehicle modifications needed, with the same holes and hardware being used as the original part, avoiding damaging your Hyundai Elantra in any way.
Like Sherman's warranty, K-Metal warrants its parts to be free from workmanship or material defects, including rust-through of parts, for as long as the purchaser of the part still owns the vehicle. This is especially important since this replacement will come in contact with all sorts of debris present on roadways, including water and other contaminants that could promote corrosion.
3) SLiPLO Universal Skid Plate
So far we have only covered replacements for your Hyundai Elantra's original equipment skid plates and splash guards. If you have no need for replacements, with the original parts being in perfect condition, there is still more you can do to keep your Elantra's undercarriage in outstanding condition – Bumper skid plates.
SLiPLO's Universal Skid Plate is an amazing product that can prevent paint damage from the underside of your bumper grinding across pavement, gravel, and other materials while on the road. Finding the best bumper scrape guard for your Hyundai Elantra is similar to finding the best Ferrari Scrape Shields since this product is universal, being compatible for installation and any vehicle.  One unique highlight is that its installation is fast and easy. Unlike other skid plates on this list, you will have no problems installing SLiPLO Universal Skid Plate even if you have no tools or experience; it is really that easy.
Each do-it-yourself kit comes with 8 strips of SLiPLO Scrape Guards, a manual, and 3M adhesive promoter pads. First, you clean your Hyundai Elantra's bumper. Once it has dried, you go over the bumper with the 3M adhesive promoter pads to prepare it. Finally, you remove the super strength 3M adhesive backing from the SLiPLO strips and adhere them to your bumper in whatever configuration is best for your vehicle's bumper.
SLiPLO Universal Skid Plate is made from extremely durable polyurethane, the same type used for snowplows that spend hundreds of hours scraping along asphalt and can easily protect your Hyundai Elantra's bumper from cement curbs, blacktop, and gravel. In fact, it is one of the best ways to avoid and prevent rock chips on your bumper.
This American product also comes with a 10-year failure free warranty, guaranteeing that it will stand the test of time. Best of all, this bumper skid plate is removable and does not require any drilling or hardware. Because of this, there will be no decrease in resale value. If anything, you will preserve your Hyundai Elantra's value by preventing any damage, maintaining its paint where it may have otherwise become damaged over time.
Wrapping Up
No matter if you are looking for a replacement skid plate for an original equipment part that became damaged or if you are looking for a bumper skid plate that can avoid damage from hitting a speed bump too fast, there are options out there for your Hyundai Elantra. For example, K-Metal and Sherman provide replacement parts for your engine splash shield and bumper splash shield. SLiPLO Universal Scrape Guard, on the other hand, is a stand-alone product that is applied onto your bumper, without hardware, to protect your bumper's paint. 
For more information on the features, benefits, and pricing of skid plates, click here, alternatively, use our interactive map to find an authorized installer near you. If you enjoyed this article, check out our blog.