It's difficult to keep your vehicle safe out in public, regardless of how careful you are.
Luckily, there are many ways to prevent damage such as
SLiPLO's Universal Bumper Scrape Guard DIY Kits
and body side moldings that won't break the bank.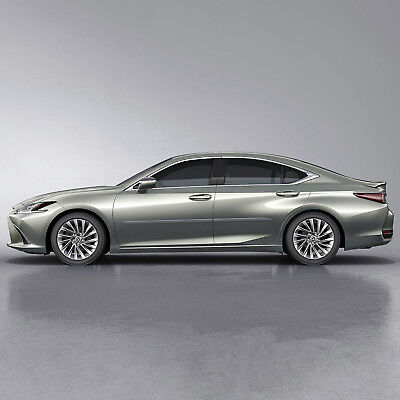 Many people know body side moldings can help protect their vehicle but still wonder if they are worth it.
Although there is a chance that you can go through the lifespan of your vehicle and never have your vehicle dinged by a rouge shopping trolley or someone slinging their door open, it's not likely. This article goes over the things to consider when deciding if body side moldings are worth it for your vehicle.
Protecting Your Door
Body side moldings are one of several things you can do to prevent your car door from being scratched. Body side moldings will protect your doors and potentially other areas of the side of your vehicle, whereas Universal 3D Door Sill Protectors protect the inside sill of your door from your shoes and other hazards.
Body side moldings provide a buffer between your vehicle and whatever is about to make an impact with it, protecting your paint, and warding off minor dents and dings.
Even though it is still possible for your vehicle's door to get nicked by something shorter than the height you have your molding placed, it still will prevent a significant number of incidents.
Set Your Vehicle Apart From Others
Body side moldings are not only for protective purposes, they can also be cosmetic, improving the aesthetic of your vehicle without doing anything too crazy.
If you want your vehicle to stand out from the crowd in a subtle way, even if you are not concerned about scratches and scuffs, body side moldings may be the thing for you.
One side of the body side molding generally has an adhesive that will not be seen, while the other side of the body side molding is an attractive cover that can come in all different shapes and sizes.
You can also choose the color, either matching it to your existing paint, getting a different color, or even getting chrome. Chrome is a particularly popular option for people who are looking at body side moldings from a cosmetic point of view.
Affordability
Preventing scratches, dings, and dents also prevents the costs that come along with getting your paint repaired and dents removed. There isn't much point in getting body side moldings if they were to cost more than it costs to repair your door if it were to get damaged. This isn't the case though, with body side moldings being fairly cheap, with options for every budget. Depending on location and brand. They can cost anywhere between $10 and $300.
You can also choose exactly how much and where you want your side moldings to be. Because of this, you can reduce your costs by only applying side moldings to your doors, for example. Even if you apply moldings to the entirety of the side of your vehicle, there are kits that are very reasonably priced.
Easy to Install
Installing side moldings on your vehicle is not a project that needs expertise in most cases. Most products have a side with strong automobile grade adhesive that you stick onto your vehicle, much like a sticker. After you thoroughly clean and dry your vehicle and plan out where you want your side moldings to go, you can simply apply the side moldings.
Before you apply your side moldings, you can use tape that will not hurt your paint to mark the exact locations that you want your side moldings. Make sure to measure your marked areas so that they are even all the way around on both sides of your car.
 If the adhesive of the body side molding you purchase uses 3M adhesive, you can prepare by using 3M Adhesive Promoter first to prepare your vehicle's paint beforehand to make absolutely sure it will have the longest lifespan possible.
The hardest part is deciding where exactly you want them and ensuring that they are straight. If you are concerned that you may not be able to manage this or that you may make a mistake, just about any body shop in existence should be happy to install them for you.
Many Options
There are many body side moldings on the market. So many, in fact, that there is one out there for all different purposes and tastes, with all different features. For example, some can come on and off in a second's notice, attached with magnets instead of adhesive.
Other ones are made for specific makes and models of vehicles to conform to the aesthetics of that particular model.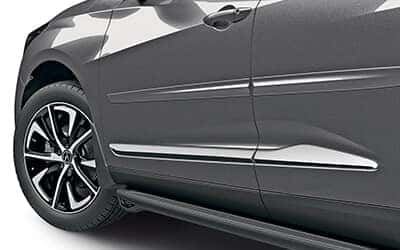 There are many options available, and you can find even more if you look online. With so many, it can be difficult determining what are the best car dent protectors and body side moldings. Make sure you do enough research before purchasing one.
Besides looking at the specs and features of each one, it is good to look up photos of your vehicle's make and model with the type of side moldings you are looking into to make sure it's a good fit for you.
Removable
Most aftermarket side moldings are removable. Anything that is put on your vehicle that isn't OEM can reduce the value of your vehicle if you go to sell it in the future because it is considered a customization. Getting side moldings that are removable makes it a no-risk endeavor.
If you get side moldings with adhesive backing, most will come off with a heat gun and fishing line. If you got ones that attach with magnets covered in soft rubber, they can just be pulled off.
Just like with installation, if you are uncomfortable removing the side moldings that you installed aftermarket, most customization shops will be happy to do it for you and they will have the right tools, like a heat gun, to remove them.
Removing side moldings is harder than installing them so seeing a professional is often the best choice. 
For more info on the features, benefits, and pricing of skid plates, click here, alternatively, use our interactive map to find an authorized installer near you. If you enjoyed this article, check out our blog.