Have you already considered if 3M Adhesion Promoter or alcohol is better for the job you are working on and decided on 3M Adhesion Promoter but do not know if you should pick 4298 or 06396? If so, you have come to the right place! 3M Adhesion Promoter is an amazing substance that can make a low surface energy material receptive for adhesion to automotive adhesive strips. The better bond the adhesive tape gets, the more durable your project will be. The following article overviews the similarities and differences between 3M Adhesion Promoter 4298 and 3M Adhesion Promoter 06396:
Similarities Between 3M Adhesion Promoter 4298 and 3M Adhesion Promoter 06396
Both 3M Adhesion Promoter 4298 and 3M Adhesion Promoter 06396 help to improve the bond on automotive attachment tapes such as 3M Acrylic Plus tapes and 3M Acrylic Foam tapes. This is especially important when you are working with low surface energy plastics, including injection molded body side moldings and claddings. One common surface both products are used on is interior and exterior vehicle trims.
Both 3M Adhesion Promoter products can make various plastics and similar materials more conducive to binding. These materials include thermoplastic olefin (TPO) that contains a combination of thermoplastic, rubber, and filler, and poly(p-phenylene oxide) (PPO) which is a high-performance high-temperature thermoplastic. Other plastics that these products work well with include Polypropylene (PP), polycarbonate (PC), and acrylonitrile butadiene styrene (ABS) plastic. Each of these plastics are regularly used in various places on your vehicle, making both 3M Adhesion Promoter 4298 and 3M Adhesion Promoter 06396 great from many automotive projects.
The reason that both products work with the same low surface materials is because they both contain the same ingredients. Both 3M Adhesion Promoter products contains cyclohexane, xylene, ethyl alcohol, ethylbenzene, ethyl acetate, acrylic polymer, chlorinated polyolefins, isopropyl alcohol and less than 0.5% of bisphenol a-epicholrohydrin copolymer, methyl alcohol, and chlorobenzene. Because of these product's chemical makeup, both products will dry in between 30 and 90 seconds.
The last similarity between 3M Adhesion Promoter 4298 and 3M Adhesion Promoter 06396 is that excess residue can be removed with either methyl ethyl ketone or acetone solvents. Be careful though, some solvents can damage plastic.
3M Adhesion Promoter 06396
The biggest difference between 3M Adhesion Promoter 06396 and 3M Adhesion Promoter 4298 has to do with application. 3M Adhesion Promoter 06396 comes in single use packets and how to use 3M Adhesion Promoter Sponges is very straightforward and easy. You simply have to tear off the top of the packet where the notch is to expose the sponge and use the remaining bit of packet as an applicator. Finally, you wipe the surface down with the sponge to create a thin layer of adhesion promoter.
Each 3M Adhesion Promoter Sponge (which is just another name for 3M Adhesion Promoter 06396) contains 2.5 cc. or 0.08 oz of 3M Adhesion Promoter solution. When spread to the recommended 0.002-inch thickness, each promoter pad can prep 150 square inches or about 1 square foot of a surface. Using this measure, you can determine if a one pack or a three pack of Adhesion Promoter Sponges are right for your project.
According to 3M Adhesion Promoter 06396 technical documents, so long as the packet is kept closed, this adhesion promoter will stay good for a year after it has been purchased. You should store 3M Adhesion Promoter Sponge Pads between 60 and 80 degrees Fahrenheit (or between 15.5 and 26.6 degrees Celsius). If you store your 3M Adhesion Promoter Sponges in a location that occasionally gets cooler than that, the solution will be okay. Just ensure that you warm the sponges up to room temperature or 70 degrees Fahrenheit before opening the packet.
3M Adhesion Promoter 4298
Unlike 3M Adhesion Promoter 06396, 3M Adhesion Promoter 4298 does not come in a packet with an easy-to-use sponge. Instead, 3M Adhesion Promoter 4298 is typically used in more professional settings where the right tools are available, and a lot of 3M Adhesion Promoter is needed.
3M Adhesion Promoter 4298 is bought by the gallon, and each container can be used on about 800 square feet of a surface. Instead of using a little sponge, 3M Adhesion Promoter 4298 is applied with a knurled roller, sprayer, gravity feed wipe, or felt tip applicator, though some other options are available. Whichever way you choose to apply the 3M Adhesion Promoter 4298, make sure you regularly clean or replace the heads of the applicators.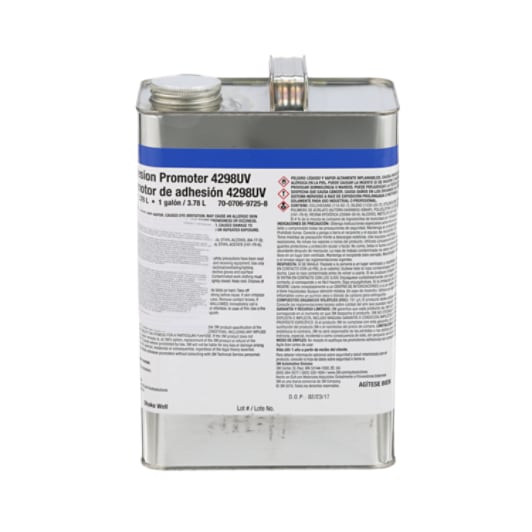 According to the technical data sheets for 3M Adhesion Promoter 4298, this product has a larger range of temperatures that are acceptable to store it at. So long as you store this solution in its original container, it should be fine if stored at between 40 and 100 degrees Fahrenheit with humidity levels between 0 and 95%. This wider range is likely because it is stored in a metal gallon container instead of a little packet. If it gets much colder than 40 degrees Fahrenheit temporarily, make sure to get it up to an acceptable temperature before use.
Another consideration due to the quantity of solution provided with 3M Adhesion Promoter 4298 is that it will need to be thoroughly shaken before use, otherwise, the solution may settle and separate and become less efficient. Depending on how long the 3M Adhesion Promoter 4298 has been sitting on the shelves at the store before you buy it, it may also stay good for longer. This product has a shelf life of 2 years from the date of manufacturing.
Which One Should I Get?
If you have a few projects to work on with your personal vehicle, such as adhering a SLiPLO Universal Bumper Scrape Guard to the underside of your vehicle, you will be better off with 3M Adhesion Promoter 06396, also known as 3M Adhesion Promoter Sponges. If on the other hand you have an autobody shop and you are looking to order in bulk in anticipation for many clients who want work that requires automotive adhesive tape, then you should go for 3M Adhesion Promoter 4298.
For more information on the features, benefits, and pricing of 3M Adhesive Promoter Sponge

 

click here, alternatively, use our interactive map to find an authorized installer near you. If you enjoyed this article, check out our blog.